Everywhere you turn there's chatter about the real estate market continuing to soften in Portland. That said, the market remains strong and firmly in a seller's market. The trends still do indicate we're creeping back to a more balanced market.
What does that actually mean for prospective buyers and sellers? It could indicate a prime time to both buy and sell.
Let's get into the numbers first and see what's actually happening.
Inventory
If you've been reading my blog and particularly my market updates with any regularity, then you know that the the first indicator I like to look is housing inventory. Measured in months, it tells us how many houses are on the market and how fast they're selling. A balanced market is around 5-7 months of inventory.
For the past few years, we've been sitting firmly at about 1.3-2.3 months. In practice, I'd say you can feel a difference ever .2 - .3 months of inventory changes. Can I tell the difference between 1.5 and 1.6 months? No...but I can definitely feel the difference between 1.5 and 2.0 months.
With the above graph, you can see that we were at 2.1 months in June. You'll note some trends between seasons (Fall is slower and therefore has higher inventory numbers as compared to the Spring months), so it's important to compare apples to apples.
April, May and June 2016-2017 averaged 1.52 months of inventory, whereas 2018 saw an average of 1.93 months of inventory - a 27% increase. Obviously that's a significant change. So what else is going on?
New Listings, Pending Sales & Closed Sales
New listings in April, May and June, 2018 totaled 13,169. Those same month in 2017 totaled 12,886, an increase of about 2.1%.
Pending sales were 9268 in 2018 and 9977 in 2017, or a drop of about 7.1%.
2Q 2018 closed sales equaled 8272, and 2017 saw those numbers equal 8302, so we've only seen a .4% drop in closed sales.
Overall, there's been an increase in listings, less pending sales and less closed sales...more sellers, less buyers. This all helps to explain the higher housing inventory levels.
Median Sales Price
Portland metro homes prices are up again and were at $417,900 in June, up from $390,000 a year prior. While the market cools, this is a good moment to remember that it's cooling from peak heat! Portland led the nation in appreciation rates for 2 years, so this is all relative and we've still seen a 7.2% appreciation rate over the past year!
What's This All Mean?!
Buyers
If you are a potential buyer, there are a few things to consider - including the overall market trends, interest rates, supply and demand, and inventory rates.
Almost all of the reading I've done lately has pointed to a slowing market, but continued solid appreciation. This stands to reason with inventory still firmly showing a seller's market, solid population growth estimates, projections of rates of appreciation in the 4-5% range for the next 12 months, and mortgage interest rates still historically very low. It appears to be a great time to jump in now before interest rates possibly push north and impact one's purchasing power.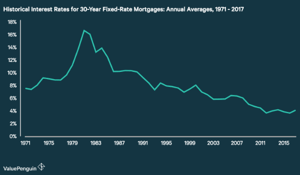 - Search Portland Metro Properties here -
Sellers
If you were hoping to time the peak of the market - good luck with that! :) - I'd suggest giving it some more time as I believe house values will keep rising until further notice. Job numbers are still extremely strong so it appears most of the country agrees with me as companies keep hiring and aren't cutting back on their labor costs. Barring some unexpected national or international meltdown, things look optimistic for continued, though slower, appreciation.
- Track Home Sale Activity in Your Area with A Market Report -
Sellers AND Buyers
If you are looking to do a buy and sell at the same time transaction, now might be the ideal time to make the move. The market has pushed up substantially over the past few years, so you'll be getting great value out of your investment, while also taking advantage of still low interest rates. When/if interest rates push up high enough it could put downward pressure on your home's value AND decrease your purchasing power.
If you're looking for any help for your real estate endeavors, as always, please do not hesitate to contact me!
Enjoy the rest of your summer,
Andy
***
Andy Harris is a Portland area real estate agent, who first started in real estate in 2004. If you are looking for buying or selling residential real estate help, don't hesitate to drop him a line at 503-504-2369 or andy@hometeamportland.com.